This Shopify vs. Square guide draws a comparison between these two renowned platforms, so you will decide to go for either website.
To meet the demands of the modern lifestyle, we all need diversified sources of income. You cannot rely on your job if you want a tension-free life. In this digital world, we have various options to kick start our online business or job.
From Amazon, eBay, Shopify, to Upwork, the list goes on. If you are familiar with eCommerce, you must have heard about Shopify, square, and other online websites.
In the 21st century, it is not merely a fantasy but a reality to do business from the comforts of your home. So, in this article, we have compared the two eCommerce websites (Shopify and Square) in terms of their pricing, eCommerce, mobile payments, and channels to sell.
Overview
Shopify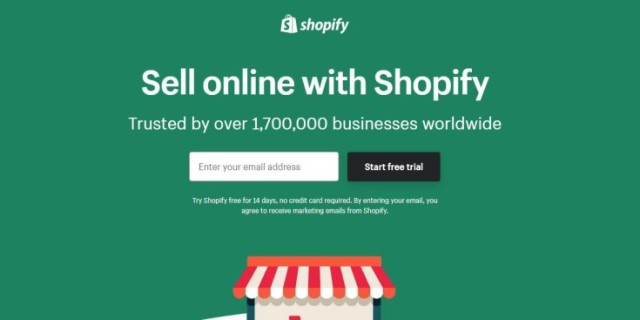 Shopify is a Canada-based eCommerce software that was established in 2006. The headquarters of Shopify is located in Ottawa, Canada. Tobias Lutke is the CEO of Shopify.
On the platform of Shopify, you can initiate your business and can sell products. You can open a digital or virtual store on their website.
Square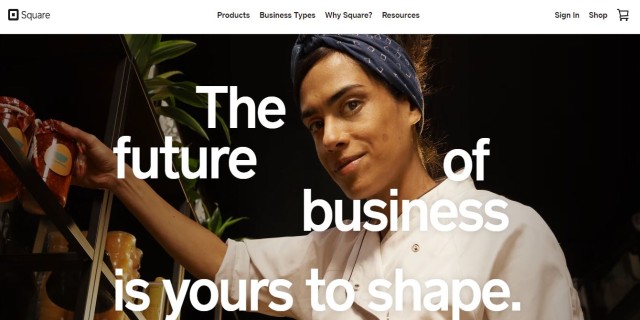 Square is a USA-based eCommerce store (website). This website was launched in 2009. Square and Shopify have almost the same type of work, but in some points, they differ. Here we compared some of the features of both websites.
Pricing : Shopify vs. Square
In this portion, we will elaborate on the pricing plans for Shopify and Square.
Shopify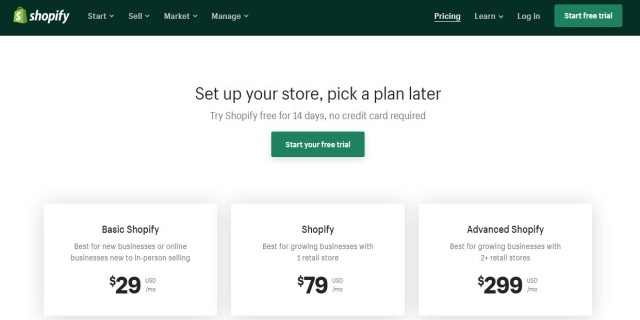 Shopify has four pricing plans, and all those plans are different from each other. The plan that charges more has advanced features that will help you to build your business. Now, we will share the details of all those plans below.
Lite Pricing Plan
This plan costs you around $9 per month.
You have to pay 2.7%+ $0.00 transaction charges for the swiping of the credit card (in-person).
If you make an online payment, the transaction fee is 2.9%+$0.30.
Basic Pricing Plan of Shopify
It approximately costs you around $29 per month.
You will get a free SSL certificate by having this plan.
eCommerce and blog website is also included in this plan
Get discount codes
Creation of manual order
The number of items is unlimited
Shopify Plan
The price of this plan is $79 per month.
All the features of The Basic plan included in the Shopify plan as well.
This plan provides a feature of recovering the Abandoned Cart.
You will get a gift card.
Five staff accounts is another exciting feature of the Shopify plan.
2.5%+$0.00 transaction fees will be charged for the payments by credit card swiping.
2.6%+$0.30 transaction fees for the online payments.
Advanced Shopify Plan
The worth of this plan is $299 per month.
The features that are mentioned in the Shopify plan are included in the Advanced Shopify Plan as well.
It has the option of an advanced report builder.
It gives the benefit of Real-time carrier shopping.
2.4%+$0.00 transaction fees for the payment by credit card swipe.
2.4%+$0.30% is the fee for online payments.
Square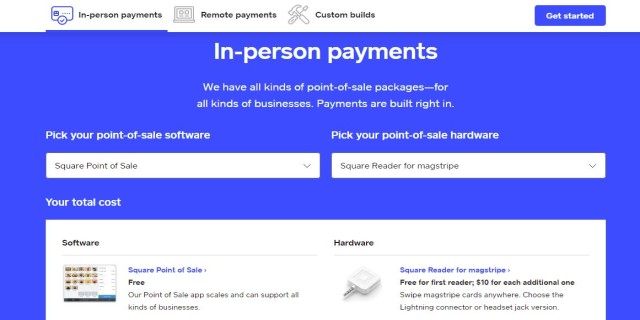 As compared to Shopify, its pricing plan is convenient and easy to comprehend. Firstly there are no monthly subscription fees in the Square for eCommerce and the POS. Moreover, you do not have to pay for the PCI acceptance.
They give you a deal if you use Square POS on a smartphone or tablet. By having this deal, you have to pay for the credit and transaction fees. Here are some plans for the square pricing.
Square Point of Sale
2.9%+$0.30 for the virtual eCommerce websites.
3.5%+$0.15 for the transactions that are keyed card transactions.
2.7% for the transactions that are made by insertion or swiping of the card.
Square Register Charges
2.5%+$0.10 for the transactions by tapping and swiping cards.
Square fees for Retails
2.5%+$0.10 for the transactions by swiping, inserting, and tapping cards.
Ecommerce
Shopify and Square both have exciting eCommerce features. But the Shopify has more advanced offerings that give it priority over Square. Shopify has earned a lot of fame and reputation over the years that enhanced its usage.
In the below-mentioned section, we have compared both the websites to get to know which is better for you. Additionally, you will get to know about square online store vs. Shopify as well.
Shopify
As we all know that Shopify serves multiple functions, but eCommerce has been its utmost priority. Shopify initiated its journey as an e-commerce store. Then, with time, other features got included in their list of offerings.
This website gives you benefit by providing you unlimited bandwidth so you can vend a bulk of products. Furthermore, it has a wide range of themes, and you can choose any one depending on your industry type. Not only this, you can customize your themes as well, especially if you have remarkable coding skills.
Additionally, their order management feature allows you to handle your orders in a better way. By using Shopify, you can link to social media platforms as well. With the assistance of its Facebook extension, you can establish a store on the social app.
Square
On the Square website, you will find a wide range of charming templates, and you can choose the one that suits your website. Unfortunately, there are many options for the customization of the theme.
Their setup procedure is not very complicated. All you have to do is import and arrange products accordingly. Then you have to do some editing in the shipping options. After following these easy steps, you will almost be ready to begin selling.
Multichannel Sales: Shopify vs. Square
Shopify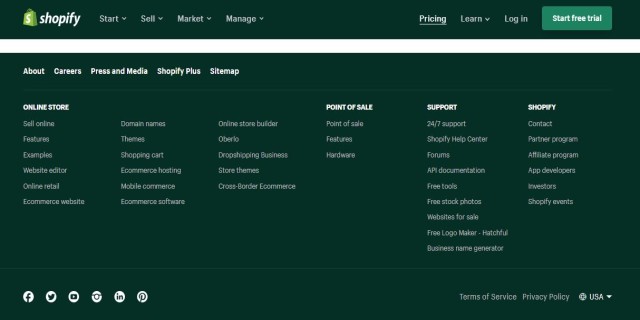 Shopify has the benefit that you can link it with other social media applications such as Facebook, Instagram, etc. In this way, you will get multiple channels to do the selling rather than having one way. Here are some online sales channels available on Shopify.
Facebook
Amazon
Buy Button
Instagram
Wholesale Channel
Handshake
In addition to this, the third-party integration feature will make it able to benefit from several apps in their play store. Therefore, you can broaden your business by synchronizing it with the market trends.
Square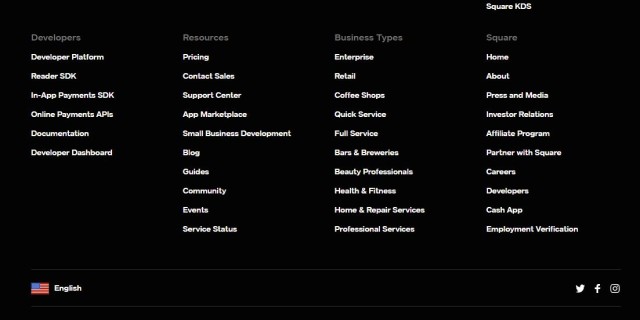 Like Shopify, Square also allowed you to use various channels to sell your products rather than just relying on the website. From Facebook, Instagram to Pinterest, you have a variety of options.
Mobile Payments
Shopify
Comprehension of the payment process is quite significant when it comes to Shopify or any online eCommerce store. When a client purchases something, they can go for any method mentioned in your Shopify's admin Payment Provider area. Luckily, you are allowed to pay through mobile to Shopify.
There are several things that you should bear in mind before providing any method available to your customers. Let's suppose you want your customers to pay via credit card. Then you can utilize a third-party provider or Shopify Payments.
Moreover, if you want to go for another option besides credit card payment, you should go for Amazon Pay, PayPal, and Apple Pay. You can avail the opportunity of cryptocurrency as well. Therefore, you can opt for any method that fits your conditions.
Square
Square allows you, customers, to pay via credit cards or square gift cards. By using Square, you can pay through the app like Apple Pay and Google Pay to make transactions secure and safe.
Frequently Asked Questions (FAQs)
Which is better, Square or Shopify?
Shopify and Square both have similar types of offerings, but in some terms, Shopify has a noticeable edge over Square. The eCommerce store Shopify has better tools that make it more suitable for multichannel and online businesses.
On the other hand, Square provides the free of cost mobile and POS apps. This feature is best for the setups that commonly sell in-person.
What's the difference between Shopify and Square?
The critical difference between these two online platforms is that if you use Shopify, you have to go for a monthly subscription with lesser processing charges. Whereas if you are a Square user, you do not need to pay monthly, but you will be charged processing fees.
Moreover, Shopify is exclusively an online store (with a POS system), while Square has a mixed (online and offline) service.
Is Shopify cheaper than Square?
We cannot say that one is cheaper and the other is expensive. Though, both eCommerce stores have identical transaction fees. However, Shopify has some perfect features that dominate it over the Square.
Therefore, it is not a big problem if Shopify costs you some extra pennies as it provides you with more benefits. But we will highly recommend you carefully evaluate your needs and budget before opting for any plan.
Does Shopify own my domain name?
If you purchase a domain via Shopify, it will use your store's information to finish the registration of the domain automatically.
Bottom Line
Business on online websites can save you a lot of time and energy. In addition to that, they are easy to handle and save human labor to some extent. However, it is momentous to understand the digital market first before setting up your online store.
We are optimistic that this article Shopify vs. Square, will help you get a better understanding of the more suitable option for you. But we will suggest you figure out your current financial status before diving into the business.