Making your brand presence online is a dire need in modern times, and you need websites for that. This article is equally insightful for startups and established brick-and-mortar stores. Businesses looking for affordable solutions to make an online presence can benefit hugely.
Developing a website from scratch has never been easier before. A plethora of options are available for non-technical folks. An intuitive interface of website builder or drag and drop functionality makes web development convenient and fun. However, programmers prefer to go with content management system (CMS) options. It provides freedom of custom website designing and flexibility of enhanced styling options. This choice mainly relies on the technical expertise of the developing team and the end goal of the user.
CMS vs Website builders
Content management system (CMS) has no limitations when it comes to customizations and web designing layouts. It solely depends upon the programming efficiency of the developer. It is integrated with a lot of plugins and themes. Enhancing the functionality of the project gets a lot easier.
On the other hand website builder is a more conducive option for newbies and non-technical personal. Website builders make website development smooth and user-friendly. It is achieved by incorporating do-it-yourself (DIY) and drag-and-drop features. First-timers can have a wonderful experience. Because all stages come with detailed guidelines. It minimizes effort on the user end considerably.
Website Builders
Website builders also come with a variety of free as well as paid plans to add versatility to the services. It enables the clients to pick the solution most suited to their needs and requirements.
The top considerations while picking a suitable website builder for your business are
Customized Domain
Variability in functionality
Ease of use
Variety of themes and templates
Customization options
Search engine optimization
Affordability and Pricing
Top website builders are discussed below with their pros and cons. Also, the business requirements that they meet are elaborated to highlight which business model they fit and suit best.
Wix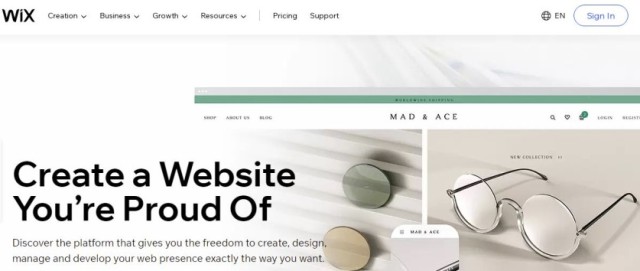 Wix is a user-friendly website builder with a variety of design themes. It is super easy to customize. It is the top pick among website builders.
Wix supports all kinds of small-scale businesses because of its easy and adaptable design and themes.
Wix has emerged as a clear winner among its competitors. Wix provides a lot of customization options to create aesthetic websites. It ranks best in terms of usability and design.
| | |
| --- | --- |
| Pros | Cons |
| Easy interface i.e. Drag and drop | Not a lot of plugin options |
| Gazillion customization options | No 24/7 customer support |
| Best suited for small scale businesses | |
| Starting at $14.0/month | |
Squarespace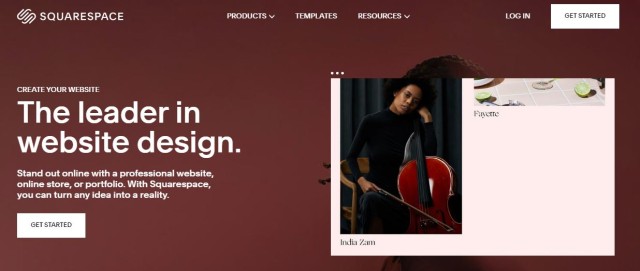 Squarespace is another drag and drop tool to support your passion for developing beautiful websites. It has a lot of built-in tools to enable diversified web design functionality.
Squarespace is primarily used for e-commerce businesses and online stores. Its built-in credit card payment functionality makes accepting payments from customers easier.
Squarespace supports a lot of plugins to support e-commerce business functionalities. Inventory tracking and adding fabric swatch previews are a few examples of plugins. Whether you have a supply store or boutique, Squarespace is best for your e-commerce business.
| | |
| --- | --- |
| Pros | Cons |
| User-friendly platform | Learning can be a bit tedious |
| Multiple functionality options | Not so good search engine optimization |
| Best suited for e-commerce businesses | Hidden functionality in tabs and menus |
| Starting at $12.0/month | |
Weebly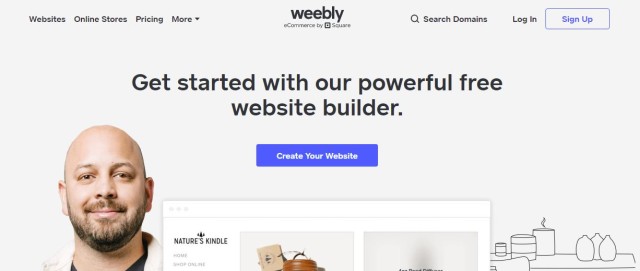 The intuitive interface of Weebly makes it a top-notch choice among website builders. It is super easy to set up webpages with Weebly. It is provided with a lot of default templates making your desktop and mobile websites look great.
Weebly is best suited for brick-and-mortar stores. Brick-and-mortar stores need to create an appealing website. It assists to retain their client base and direct customers to the store.
The pros and cons of this website builder are highlighted below.
| | |
| --- | --- |
| Pros | Cons |
| Templates with professional appeal | E-commerce options are paid |
| User-friendly dashboard | Lesser options for customer service |
| Best suited for brick and mortar stores | |
| Starting at $6.0/month | |
BigCommerce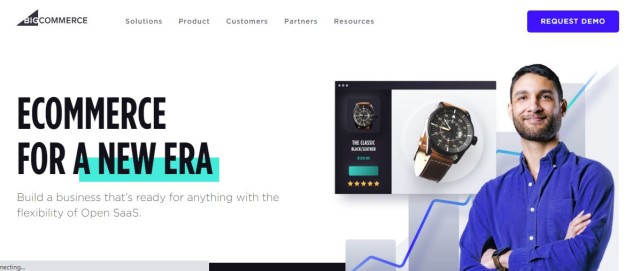 BigCommerce has its name in large-scale businesses. It is well suited for large-scale e-commerce stores. The functionality of BigCommerce is well designed to cater the sales and product features of an e-commerce business.
Famous brands have managed to make a strong online presence. BigCommerce has increased their business into a large-scale e-commerce entity through BigCommerce.
| | |
| --- | --- |
| Pros | Cons |
| Easy to build websites | Not possible to install third-party extensions |
| Advanced features for large e-commerce businesses like shipping tools, reviews etc | Not affordable for small scale entities |
| Starting at $29.95/month | |
GoDaddy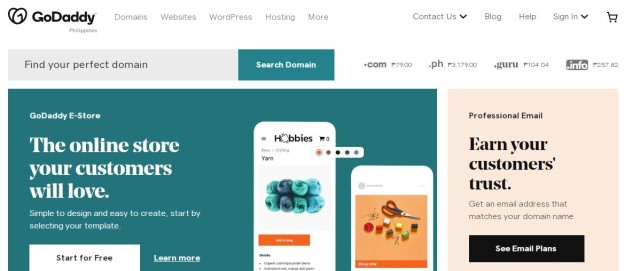 GoDaddy is the best solution for quick and painless website development. It has a menu-based interface. Which is highly rewarding for non-technical people.
GoDaddy is the best option for businesses for are looking for an easy and quick option to set up a website for their business. So it is the best choice for companies hunting for a quick setup option for online business.
| | |
| --- | --- |
| Pros | Cons |
| Most affordable option | Few customization options |
| Short learning curve | Mediocre search engine optimization |
| Starting at $10/month | |
Best CMS solution for your business
WordPress tops the list as being the best solution to serve the website development needs for all kinds of businesses. It is absolutely free and has some paid plugins and themes which require little financial investment.
WordPress requires a bit of technical background and can be a bit difficult to manage for non-technical customers. To incorporate themes and plugins and activate their functionality, the client has to be a web developer or with some background in this particular niche.
Salient features are mentioned below.
The interface is not so intuitive and the builder is a bit complex. For integrating different plugins and themes, you have to sift through a lot of menu options.
A major benefit is the ability to add content blocks which makes it easier to work. The learning curve is a bit steep. It takes a while to learn and get expertise on this platform.
The limitless options for themes, apps, and plugins make it a desirable option for a vast majority of online businesses. Online sellers can boost their sales and enjoy an abundance of plugins in WordPress.
WordPress is the top choice because it provides website development and web hosting option under one umbrella.
| | |
| --- | --- |
| Pros | Cons |
| Nearly infinite customization options | Difficult for non-technical folks |
| Multitude of plugins and themes | Not so intuitive |
| Starting at $4.0/month | |
Custom web development
Custom web development can enable your business with a competitive edge over the vast majority of companies. Newbies can make the process of developing your website to the next level through custom web development.
Custom web development aids the navigation flow of clients by incorporating the latest technologies. It makes customer experience smoother, faster, and more reliable. Website development is the key ingredient that can make or break your profitability and margins. Custom web development segregates your business from the crowd and helps you stand tall in the vast majority of the competition.
With custom web development, you will have multiple options at your disposal to better engage with your customer base. The need for custom website development can be due to the following reasons.
Up-Side
Elevated ROI
Custom-built websites are proven to bring better conversion rates than premade designs. Conversion rates are increased by developing a website according to the client's persona. It multiplies the profit of your business manifold.
Heavy aesthetics
If your brand addresses a unique tailor-made product that targets a specific audience then custom web development is a fitting option.
To boost sales and thrive your profit margins, custom website development seems to be a good option. It works well in the case when your business website needs some heavy aesthetics to appeal and to retain the traffic of your audience.
Audience centric approach
If your business niche demands you to gain the trust of your employees and provide them with personalized solutions then custom web development is a well-suited option. By customizing web pages you can add filters and themes according to the demographical needs of your client base.
Search engine optimization
The success of online businesses heavily relies on good SEO techniques. Online visibility is mandatory for profitability and enhancing sales.
As custom-designed websites are user-friendly, they are preferred by search engines and rank better.
Better optimization & Faster Loading
More than 50% of website clicks are abandoned when it takes a higher load time. So it is extremely crucial to hold the attention span of customers by adopting better optimization techniques. Custom-built websites have better optimization for mobile devices and other platforms. It helps to rank them better.
Downside of custom-built websites
Budget could be a point of concern for custom-built websites. You would have to pay a handsome amount to developers to incorporate high-end functionalities. High-end functionalities include fast loading and high compatibility features.
Maintaining custom-built websites is another costly task. Because custom-built templates generally do not offer a quick fix solution.
In short, web development is taking the world by storm. Making a digital and online presence has become a crucial part and parcel of survival. Please do not hesitate to chime in your experience with these web builders and CMS in the comment section below.